Join Michelle Moore (Great Data Minds Data Governance Advisor) and John Wills (CEO of Prentice Gate) as they dissect key issues in governance programs and provide practical solutions to avoid these pitfalls.
The areas we will discuss are:
Developing a Solid Data Strategy
Sourcing Executive Buy-In
Maintaining an Innovative Mindset
Developing a Decision Rights Framework
Maintaining a Center of Excellence Mindset
Identifying and Honoring Critical Data Elements/Classifications
Successful data governance requires a holistic approach that addresses both the technical and human aspects of managing data within an organization. Join us to begin your journey to uncover the secrets of successful data governance.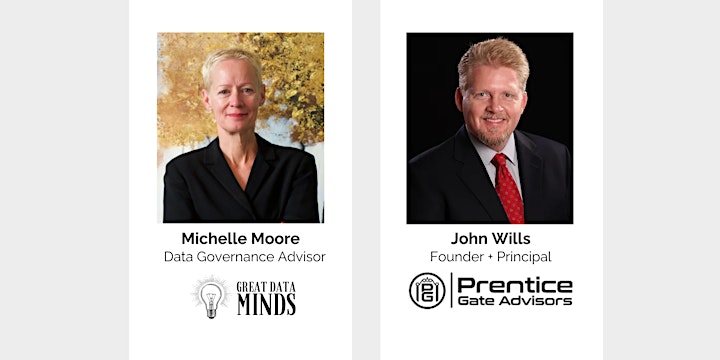 After years of experience implementing governance programs, Michelle and John have valuable and unique insights to share.
ABOUT MICHELLE MOORE:
Michelle is a transformation specialist with extensive experience in the design, planning and execution of Digital and Operational Transformation; Operational Management; Data Management & Governance for large, multi-national organizations.
She has a passion for enabling business strategies through People, Process, Data, and Technology aligned to deliver Operational Excellence through collaboration and cultural change management.
ABOUT JOHN WILLS:
John has 30+ years of deep data domain expertise. Analytics, metadata, data quality, data integration, master data management, profiling, data modeling, etc.
He has had the honor of being able to apply that knowledge by helping lead and grow several software startups and consulting practices. Learn more about John at Prentice Gate Advisors
Prefer Podcasts? Listen here!